If you were a doctor, you wouldn't prescribe medication before diagnosing the patient in need. If you were a lawyer, you wouldn't call a witness without knowing how they'd testify, or even how to question them. Then why would you send a press release or submit a letter to the editor without a communications strategy and crafting the intent?
You don't know what you don't know. If you're creating and distributing content without a clearly defined goal and outcome, you're wasting time, energy, and money. You're also increasing your likelihood of failure and you might be doing real harm to your cause.
Without an in-depth understanding of how an issue will play statewide or in local Texas markets, your long list of deliverables is just a tangle of tumbleweeds blowing in the wind, without direction,  and knocking things over along the way.. Odds are, you don't need a press release. You need a communications partner to make sure your deliverables, built on strategy, are landing on their intended target and creating the desired outcome.
Don't Say Anything Until You Sort Your Messaging
Today's noisy and crowded media landscape can make companies feel compelled to plunge into the chorus of content flooding the market. 
So they blast their messages far and wide, putting quantity over quality, hoping something will hit the target. They measure their success on metrics like impressions, placements, comments, clicks, likes or shares. Woof.
Those deliverables may be measurable, but are they actually impactful?
The Monument Group understands how engineer an effective campaign strategy by:
identifying your desired outcome

conducting the required research

developing tailored messaging

Developing relationships with prospective allies/advocates

monitoring the impact 

and refining the message to move the needle.
We work closely with clients to identify the approach that works best so that deliverables are informed by a deliberate, thoughtful strategy.
Get a Lay of the Land Before Launching Into Deliverables
Pursuing deliverables without a strategy is like letting your truck run in the parking lot. You will burn plenty of gas but won't be going anywhere soon.
Tactics not backed up by research and codified in a strategy should be called "dis-tractics" because they take your eye off the ball and focus on the unimportant. That's valuable time and money that could otherwise be used more wisely. In addition to not knowing whether a deliverable will hit your target, the lack of a strategy leaves you vulnerable to attack from competitors or opponents.
Most effective communications strategies start with a vulnerability study and a landscape assessment, which are precisely what they sound like: painting a complete picture of the socio-political environment you're entering, knowing where the landmines are, and where opportunities exist. You identify allies and how to leverage them; you mark your opposition and know what to expect from them. 
Putting Deliverables Ahead of Strategy is Fire, Ready, Aim 
It is the job of a strategic communications consultant to chart a successful path forward. If you come to us with a predetermined set of tactics, you can expect us to ask why.
You say you want to engage with key stakeholders or secure a meeting with an editorial board. Why? Do you know who those key stakeholders are or what they care about? Do you know if that editorial board agrees with your initiative or whether your target audience will even read that editorial? Do you know that in shrinking Texas newsrooms editorial boards hardly meet with anyone and taking the time to cultivate a reporter relationship is likely time better spent?
Executing on deliverables before establishing a strategy is counterproductive. You have no idea how your issue will play in the public sphere or the kind of attention it will attract. And not all attention is good attention. 
You can avoid making these unforced errors by pressing pause. Take a minute to step outside your bubble, gather the necessary information, and determine logical next steps. Here's how that process looks: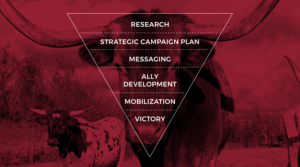 The Monument Group provides objective perspective (aka, tells you the unvarnished truth you need to hear) and leads you along the trail every step of the way. 
And spoiler alert: If you haven't figured it out by now, a strategy, sometimes referred to as a "proposal," actually is a type of deliverable. When developed properly, it becomes your roadmap to success. 
Texas is Too Big and Complicated to Tackle Without a Strategy
Our state's enormous footprint and disparate regional personalities make it a unique battleground for conducting business, especially communications campaigns.
Just because a tactic worked elsewhere, there is no guarantee it will work here. Frankly, we would argue there's practically a guarantee that it won't (see "How to Speak Texan"). National campaigns that land in other states often fall flat when they reach the Texas state line.
It also doesn't hurt if you have a deeper understanding of how your issue ranks among the myriad industries and areas where Texas is at or near the top of the game nationally and internationally.
Developing a Communications Strategy Takes Time and Effort. But it's Worth It.
Conducting a successful communications campaign in Texas is like driving from Beaumont to Amarillo: you aren't going to get there overnight. You need to identify the right hills to climb and plateaus to rest on. You need to find incremental wins. 
Crossing the state efficiently requires a good map, a proven, reliable strategy, and an experienced guide. If you want to hear how The Monument Group takes companies like yours to the peak, let's talk.