There is only one thing to talk about right now, of course: The pandemic and its impact on Texas' communities and economy. Our research department has been keeping a close eye on the Texas landscape. It changes daily (if not hourly). Here is an update on where we stand as of April 16, 2020.
To our clients and friends, we hope you are healthy and safe. Now, let's talk Texas.
By The Numbers
158,547 tests conducted in Texas
16,455 cases of coronavirus – 10.4% of tests conducted

Houston Metro Area: 5,820
DFW Metro Area: 4,247
Austin Metro Area: 1,258
San Antonio Metro Area: 1,040

393 fatalities – 2.4% of cases
3,677 patients recovered
1,459 hospitalized – 8.9% of cases
21,489 hospital beds and 2,386 ICU beds available
6,828 ventilators available
273,567 Texans applied for unemployment benefits the week ending April 11, 41,600 less than the previous week.  This represents the first decrease since the health crisis began. More than one million claims have been submitted since March 15.
7 executive orders from Gov. Greg Abbott, half of the total he has issued since he was elected Governor of Texas.
$19.70 – Barrel of West Texas Intermediate (WTI) Crude
$8.5 Billion –  Approximate amount in the Texas Economic Stabilization Fund, also known as the Rainy Day Fund.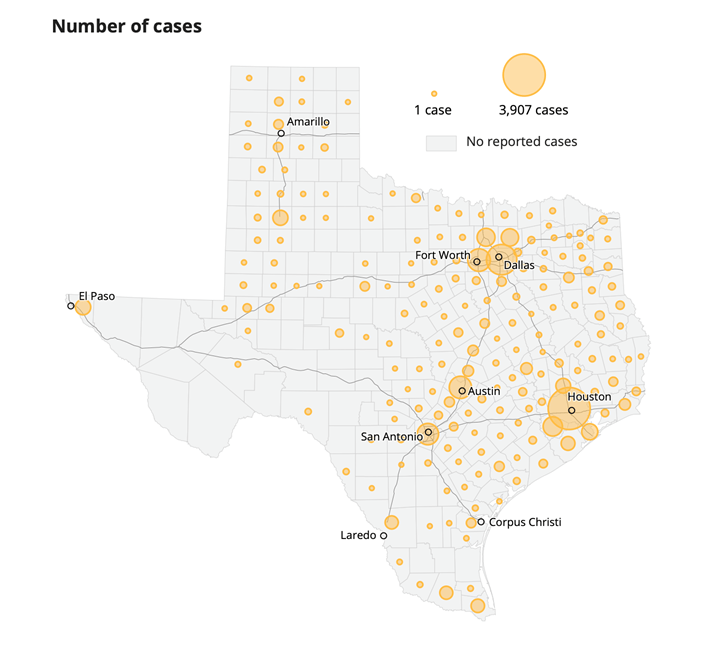 Where We Have Been
On March 31, Gov. Abbott Issued An Executive Order Requiring Texans To Stay Home For The Month Of April, Excluding Essential Services And Activities.  He has declined to call it a "stay at home order" stating he wants Texans to understand they may carry out essential activities, such as buying groceries. The distinction may be in the name only since the order closely mirrors other states' stay at home/shelter in place orders. Texas schools are currently closed until May 4th and state testing requirements have been waived for the 2019-2020 school year.
Texas' Strong Economy Has Suffered From Two Concurrent Blows, COVID-19 And Low Oil Prices. Economic Indicators Point To Texas Entering A Recession. 
Texas Comptroller Glen Hegar has warned new revenue projections, released this summer, are likely to be billions of dollars lower than expected.  A primary concern is the drop in sales tax collected by local businesses, the largest source of state revenue.
Texas has options to soften the blow of declining revenue.  Chief among them is the $8.5 billion Texas Economic Stabilization Fund, also known as the Rainy Day Fund. The fund could be used to cover the shortfall in tax revenue before the Legislature reconvenes in January 2021.
Texas manufacturing activity declined sharply in March. The production index, a key measure of state manufacturing conditions, plummeted from 16.4 to -35.3, suggesting a notable contraction in output.
The Texas Workforce Commission is fighting to keep up with the increasing demand of unemployment claims.  In the last few weeks, they have handled as many claims as they normally receive in an entire year. The agency has added three new call centers this week and has extended the hours they receive calls.  Additionally, staff members from the Texas House and Senate and the Lieutenant Governor's office have agreed to volunteer with the Commission.
A Huge Contributor To Texas' Economic Success (And The Rainy Day Fund) Is The Energy Sector, Dominated By The Oil And Gas Industry. In addition to low oil prices, COVID-19 is affecting energy consumption and disrupting the flow of financing for not just oil and gas projects, but also wind and solar, a rapidly growing industry in Texas.
A bipartisan group of Texas lawmakers, including Sens. John Cornyn and Ted Cruz, are supporting legislation that would fund a $3 billion purchase of oil for the nation's Strategic Petroleum Reserve. The bill would help U.S. oil producers, including those in Texas, and fill the reserve while prices are down.
On Sunday, April 12, OPEC agreed to cut oil production by nearly 10 million barrels a day, ending the price war between Saudi Arabia and Russia. The move was the biggest oil production cut in history.  Analysts have said the agreement would not be enough to allow companies in the Permian Basin and Eagle Ford could ramp up drilling again.
The Texas Railroad Commission, the state agency that regulates the oil and gas industry, is contemplating oil production cuts in the face of plunging energy rates. On Tuesday, Commissioners heard arguments in favor of and in opposition to ordering crude producers to cut production. The move is supported by smaller producers like Pioneer Natural Resources and Parsley Energy and is opposed by the Texas Oil and Gas Association and big oil producers like Chevron Corp, Exxon Mobil, and Occidental Petroleum. Leading up to Tuesday's meeting, Commissioner Ryan Sitton, who was defeated in a March primary election, had been vocal on the need to discuss proration. Passage requires two of three commissioners to agree on curbs, which would be the first by the state in nearly 50 years. Commissioner Christi Craddick acknowledged the Commission lacks experience with proration stating, "We don't know how to do it at the agency anymore. Do we start on Jan. 1? Where do we start? How do we start?" Commissioners did not take action on approving proration before adjourning.
Texas Leaders Have Different Priorities During The Health Crisis. Gov. Abbott has been focused on mitigating the spread of COVID-19, encouraging Texans to stay home, extending social distancing guidelines, closing schools, and requiring visitors from hot spots to self-quarantine. Lt. Gov. Patrick has been outspoken about the economy and getting Texans back to work.  On April 7th, Patrick announced a business task force to "restart the economy." Lt. Gov. Patrick was criticized for saying, "My message is that let's get back to work. Let's get back to living. Let's be smart about it, and those of us who are 70-plus, we'll take care of ourselves, but don't sacrifice the country." Gov. Abbott is expected to issue an executive order outlining how and when Texas businesses will reopen on Friday, April 17.
In The Month Of March, Gov. Abbott Issued Seven Executive Orders Relating To The Coronavirus, As Many As He Had Previously Issued Since Taking Office In 2016. These orders include:
Changing Business Environment
By Declaring A State Of Disaster On March 13th, Gov. Abbott Gained The Ability To Waive Laws That Hinder The State's Ability To Respond To COVID-19. Since that time, Texas has waived an unprecedented amount of state regulations to expeditie needed services. Businesses across the state have immediately taken advantage of these waivers and we anticipate continued adoption and adaptation from companies. Waivers include:
Restaurants are now allowed to sell bulk retail products from restaurant supply chain distributors directly to consumers.
Restaurants with a mixed beverage permit may sell beer, wine, or mixed drinks for delivery, as long as they are accompanied by food purchased from the restaurant.
State laws that prohibit trucks from the alcohol industry from delivering supplies to grocery stores have been waived. This provides grocers with another private-sector option to keep their shelves stocked.
A notary public may now conduct business via videoconference when executing  a self-proved will, a durable power of attorney, a medical power of attorney, a directive to physician, or an oath of an executor, administrator, or guardian.
Expanded Healthcare Workforce: Numerous changes have been made to healthcare  regulations including: Physician Assistants (PA), Medical Physicists, Perfusionists, and Respiratory Care candidates for licensure who have completed all other requirements may enter the workforce under a​n emergency license, working under supervision prior to taking the final licensure examination; licensing renewal period for nurses has been extended; reactivation for advanced practice registered nurses has been expedited; temporary permit extensions to practice for graduate nurses and graduate vocational nurses who have yet to take the licensing exam is now allowed; students in their final year of nursing school are allowed to meet their clinical objectives by exceeding the 50% limit on simulated experiences is; nurses with inactive licenses or retired nurses are allowed to reactivate their licenses; local medical directors for licensed EMS providers can permit individuals who are qualified, though not formally certified, to provide critical emergency response services for patients treated and transported by the EMS provider.
Telemedicine: Numerous changes have been made to telemedicine regulations, including: insurance companies are now required to pay the same rate for telemedicine services as they do for in-person visits; providers can use whatever platform they prefer or have available to them; and doctors no longer have to establish in-person care of a patient before they use telehealth services.
Pharmacies: Pharmacists are now allowed to make phone consultations; pharmacy technicians can now accept prescription drug orders over the phone and transfer or receive a transfer of original prescription information on behalf of patients; licensing renewal period for pharmacists have been extended;
Provisions of the Texas Alcoholic Beverage Code have been suspended to help businesses whose events were cancelled due to COVID-19. Suspending these provisions will allow for refunds of application fees paid to obtain a temporary event permit for an event that was later cancelled.
Regulations related to commercial trucking in the state of Texas have been waived to expedite commercial vehicle delivery.
Will The Waivers Remain? Once the crisis is over and the public has embraced regulatory changes that have simplified their lives, the necessity of these regulations will be questioned. We believe that, once waived, many of these regulations will never be reinstated.
Texas Congressman Chip Roy stated that he will introduce legislation to "repeal any regulation that was waived during the coronavirus public health emergency."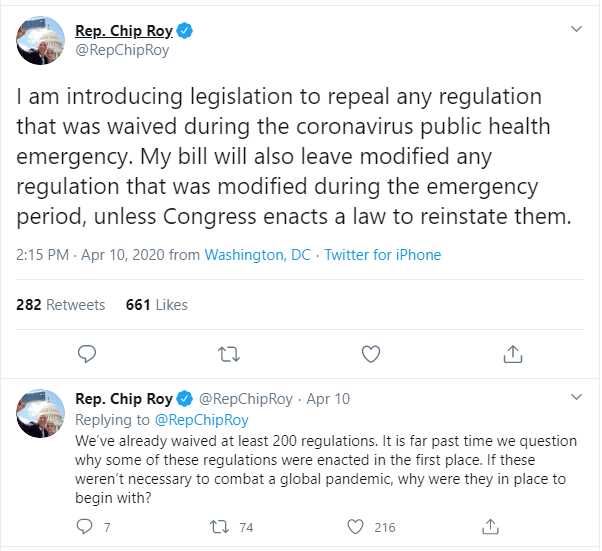 Across Texas We Have Seen Businesses And Government Adapt And Respond During The Health Crisis:
But Weaknesses Are Also Being Revealed. The Texas Workforce Commission is using 1980's technology, a half a million Texans do not have access to broadband, global supply chains are disrupted, and healthcare systems lack capacity to respond during a crisis.
What's Next?
The crystal ball is still cloudy. The impact of this pandemic on Texas and the world will result in indelible changes. In our next landscape assessment, we will explore some of the key industries in our state and what the future may hold in the public affairs environment.
Are you interested in seeing us deep-dive on a particular issue? Drop us a line at info@themonumentgroup.com.