Tough Times
Business evolves when confronted by disruption and crisis. It forces a company to innovate and be more competitive in a rapidly changing landscape. One industry that continues desperately to keep up in this very dynamic environment is the news media. The COVID-19 pandemic has only exacerbated these challenges and is forcing tough decisions on a struggling business model.  For example, in Texas:
The Austin American-Statesman laid off seven employees, some with decades of experience. The majority of the remaining employees at the Statesman are required to take one week of unpaid leave for April, May and June.
At The Dallas Morning News, employees took a pay cut of between 3 percent and 17 percent.
The owner of six newspapers in Texas, M Roberts Media, cut Monday print editions and instituted temporary pay cuts for employees making $30,000 or more.
The San Antonio Current laid off ten employees from "virtually every department."
D Magazine in Dallas laid off 15 employees.
Fort Worth Weekly laid off most of its twenty employees.
The Austin Chronicle changed to an every-other-week print schedule.
The Denton Record-Chronicle is cutting back its print editions to twice a week: Wednesday and a weekend edition on Saturday.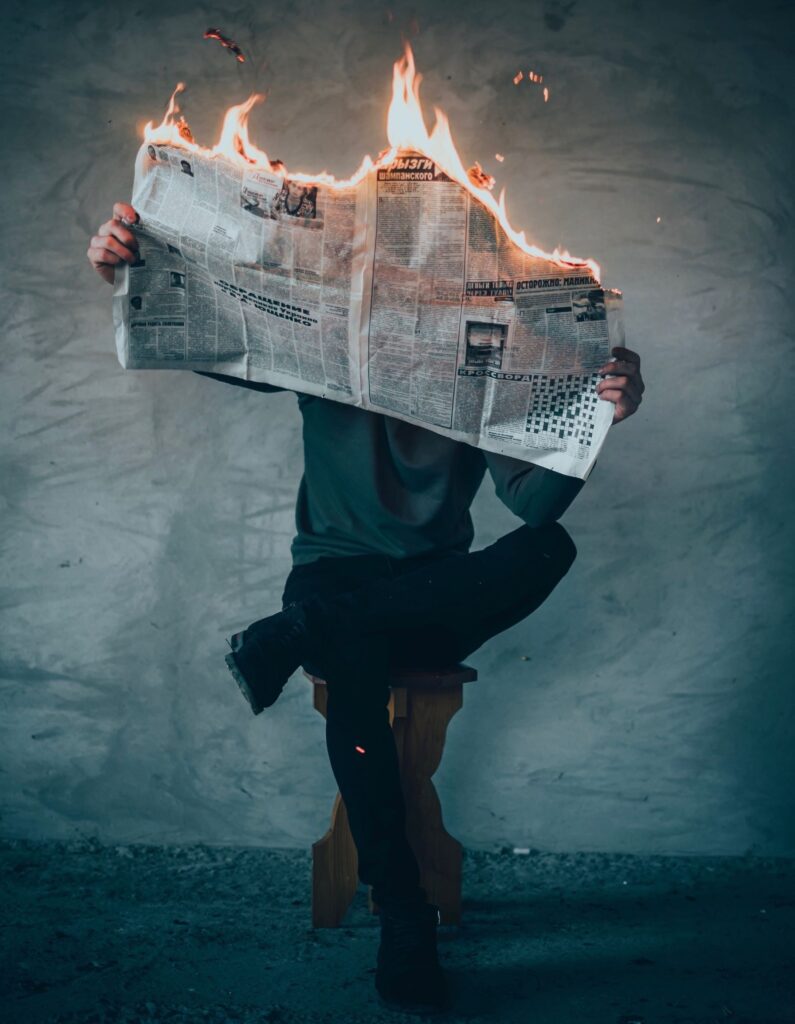 Our Two Cents
Traditional news media, in a broad sense, has faced adversity in two ways: pleading for paid subscribers and sensationalizing headlines with fearful narratives and controversy to drive clicks and generate revenue. In their defense, in order to stay afloat, mainstream media has had to adapt to the desires of readers obsessed with social media-fueled tripe, vitriol and polarization. The uncertainty of the pandemic has provided the news media with an irresistible environment to double down on this strategy.
Doctors, epidemiologists, economists and politicians have plenty of opinions from which the media can pick and choose, and it typically seizes upon the most daunting, divisive scenarios possible. Sprinkle in some political polarization, add a dash of discrimination, a pinch of protestors, and top it all off with the results of a public opinion poll or the comments of anonymous sources, and you have stories that may only be partially true, but they're darn compelling.
What was once a medium to inform and educate has become a machine that sows and reinforces discord, and facts have become the casualty. Do you crave a certain disposition, political bent or community of agreement? There is a publication, 24-hour news channel or website for you. Is the media a trusted avenue to communicate your factual (and often most informed) perspective with the public? Hell no.
Are Some Publications Bucking The Trend?
Yes, but they are limited across the state. One example is The Texas Tribune, which has been operating and innovating as a successful non-profit over the last 10 years. While not above promoting its own sensational headlines, the online publication has been a disruptor in Texas media coverage by innovating its approach, reach, content, and by maintaining a disciplined focus on Texas politics and policy.  The response has been enormous GROWTH in staff, a commitment to well-researched content, statewide events featuring policy makers, and consistent syndication of its content in news sources across the state.
In addition, Austonia, a for-profit "public benefit corporation," has taken the focus of the Texas Tribune and applied it to Austin-specific reporting. With a promise of no clickbait, the online publication presents factual, straight to the point topics of interest with a little news aggregation for additional depth.  Its founders identified a gap left by the Austin American-Statesman, and they're filling it.
Finally, Community Impact Newspapers provide hyper-local content for individual areas within a city.  The information is relevant, data-supported, and generally unencumbered by editorial agendas.  These are the most popular, most dependable news sources for many readers.
Managing the Media Relations Challenge
We design integrated campaigns that bring together many communication strategies to best educate the community and other major stakeholders. The news media is an important part of this approach, but now more than ever, it can be a dangerous and unpredictable conduit.
Is this new? No. But in the midst of a national crisis, the media has proven that factual reporting takes a back seat to conflict. And as the news media faces increased competition for eyeballs and their newsrooms shrink alongside their profits; blame, controversy, discrimination, and segmentation will continue to dominate the headlines. It's incumbent upon us to acknowledge this reality and adapt.
Establishing a symbiotic relationship with the press remains critical for corporate communications, especially in a crisis. After all, you want them to have the facts they needed to compose an accurate story, and they need you to return their calls so they have the most up-to-date information and can keep up with their media competitors. The narrative must be accurate, clear, and, digestible, understanding that gaps in a story provide opportunities for misrepresentation.
"No comment" is not an option because it's interpreted (and reported) as a tacit "guilty as charged" admission. But that does not mean bending over backwards to accommodate unreasonable requests, especially for reporters who are not operating in good faith.
Often, the story is written before that first fact gathering conversation even occurs, and if the information you provide doesn't fit within the theme a reporter has already established, it can be omitted. In addition, your detractors (even if you did not know you had any) will be given equal, if not more, space to tell a conflicting side of the story. This is the point at which you must decide if continuing to engage with a reporter makes sense.
Allies Are Critical
Companies cannot expect the media to carry their water for them. Media relations must remain a part of a communications strategy, but it is critical for companies to tell their own stories directly to the audiences that matter most.  Now more than ever, establishing partnerships, communicating clearly and consistently, and mobilizing your advocates is critical. Their voices will validate your position, lend credibility to your messages, and shape the opinions of stakeholders and policy makers.
Building that army of advocates must start before you need them, a subject we will discuss in the next Talkin' Texas.